Crufts 2008
Photos: Allan Brown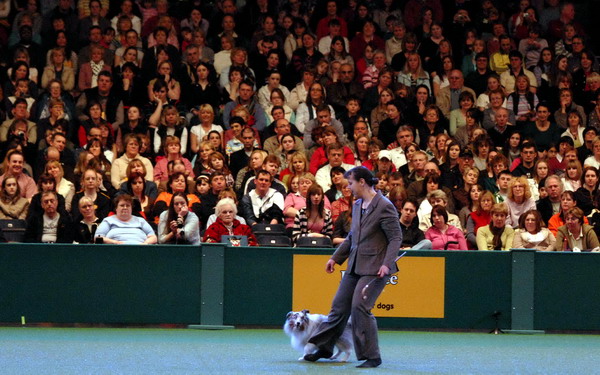 When my dad rang me in October 2006 with an invitation for me to travel to Australia with him, Crufts 2008 was the last thing on my mind. But during the autumn of 2007, when I received the news that my sheltie Biscuit and I were chosen "team" to represent Denmark in the International Freestyle Final at Crufts 2008, my excitement was mixed with a touch of worry.
I would be in Australia for the entire month of February – far away from the cold and wet Danish winter and far away from Biscuit. And when I realised that due to work commitments, I couldn't leave Denmark early enough to drive to England with Biscuit, but that I would have to arrange to send him with a friend as long as a week before I could fly from Denmark, 'worry' was a word no longer suitable to describe my feelings.
I would have to leave Biscuit with the dog-sitters for a whole month, have two days of training on return from Australia, then be separated from him for a week whilst he travelled without me to England, have just two days of training in England before performing in the massive NEC Arena at Crufts in front of more than 6000 spectators. Worried? No! Terrified!
I left Biscuit, a long list of instructions for the dog-sitter and Denmark behind me and spent an amazing time in Australia , returned home, defied the jet-lag and went training. Biscuit was very excited to be dancing again, but I think it is fair to say that we both lacked a bit of accuracy! Nevertheless, two days later Biscuit left Denmark and was driven to England whilst I stayed in my office, working in the Danish Kennel Club.
Our next training session was in a dark yard in Linton, Derbyshire where we stayed on the Wednesday night before Crufts. Happily, it wasn't bad. Again Biscuit was very excited – maybe too excited, but we did ok which meant I felt a lot better about the impending competition.
Thursday morning, very early – off to Crufts. My friend Johanna , who had brought Biscuit to England for me, was representing Denmark in the International Agility so of course I wanted to support her, but the highlight of the day was The British Freestyle Final.
What a show! All the teams were great, but a few stood out.
I had seen Michelle Dodson and her Border Collie Kamarda Doctor Foster perform in September 2007 and they were good, but at Crufts they were excellent. They had really taken their routine to the next level. Luckily the judges agreed and they were placed 3rd.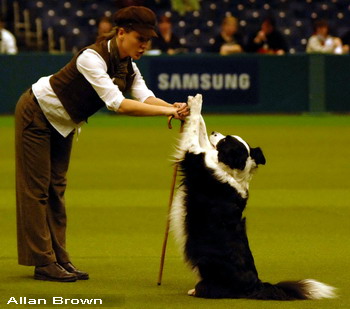 Michelle Dodson & Kamarda Doctor Foster
Nicky Joyce and Working Sheepdog Busybug Marquisete performed a very accurate routine with lots of contents – beautiful and high spectator appeal – a well deserved 2nd .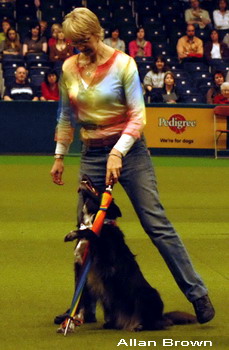 Nicky Joyce & Busybug Marquisete
My favourite though was Kath Hardman and crossbreed September Spice performing to 'If I Only Had a Brain' from The Wizard of Oz. They used the same music at Crufts 2007, but the routine had been changed a lot since then. New moves were added and some moves were changed. I liked the routine in 2007, but I loved it in 2008! Kath was the scarecrow! The musical interpretation is second to none, the routine has so much content and Spice performs it with excitement and accuracy. There were many good teams in the Freestyle Final, but there can be no doubt - Kath and Spice were the winners.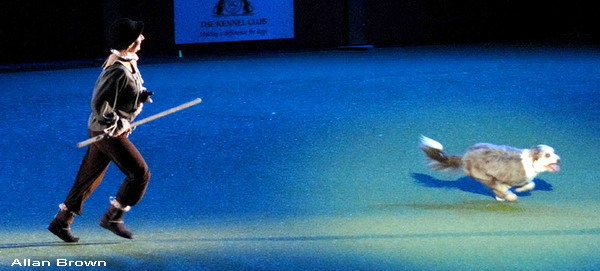 Kath Hardman & September Spice
Biscuit and I spent Thursday evening in the dark yard training. After having seen Kath and Spice win and qualify to represent England, we knew the standard of the competition in The International Final and training was needed!
Friday was Heelwork to Music day – time for the British HTM Final. And time for the butterflies to arrive… - the day before the International!!!
I really enjoyed the Heelwork to Music. Again I had a few favourites.
Kath Hardman and her Working Sheepdog Reflexions of Ginger performed a breathtaking Irish routine to 'Duelling Violins'. It was extraordinary. They placed 5 th . I would have loved to see them place higher.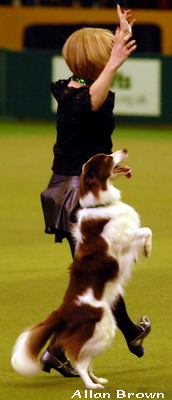 Kath Hardman & Reflexions of Ginger
Richard Curtis and Working Sheepdog Dance Floor Diva performed an exact and entertaining routine using a billiard table as a prop!!!! They placed 2nd .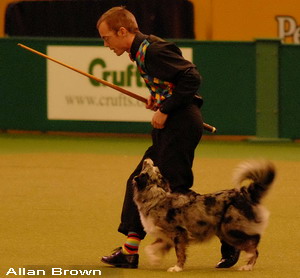 Richard Curtis & Dance Floor Diva
Karen Sykes and Working Sheepdog Iatka Spring Spangle was the last team in the ring and they performed a moving and beautiful routine to 'Minuet in E' by Boccherini. They looked stunning and kept the audience spellbound. Even though there were between 6000 and 7000 spectators in the Arena, you could hear a pin drop. They were my winners and I am glad to say that they were also the judges' Crufts 2008 winners!

Karen Sykes & Iatka Spring Spangle
Saturday morning!!!! Of course I was nervous, but I was also excited. Finally it was my turn to perform in the Arena! Biscuit was happy and ready for action. Unfortunately I was not… I didn't feel that well and it worsened during the morning. Thank you so much to all the stewards and ring crew for helping me feel better and ready for our big performance.

Ready for the music to start
We had a few hiccups in our routine to 'All I Care About is Love' from Chicago , but we loved every second in the ring! To be allowed to perform in front of a huge audience at the world's greatest dog show must be any dog dancer's dream. I am very grateful that I have shared that experience with Biscuit twice now and it is a privilege to work with such a wonderful dog.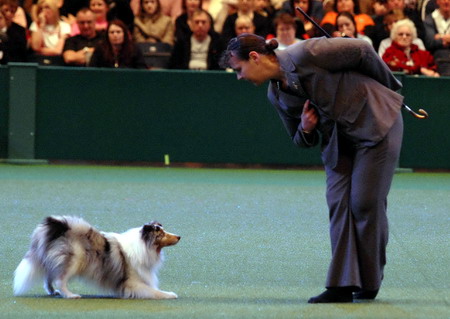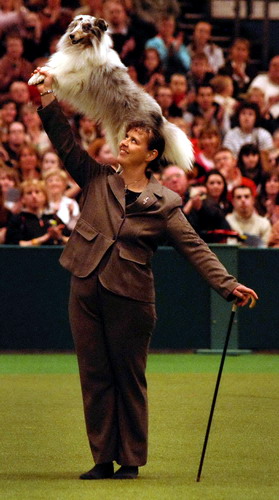 I didn't see my 'rivals' perform, but I was pleased when the results were announced and Kath and Spice had won. They are a great team and true Champions.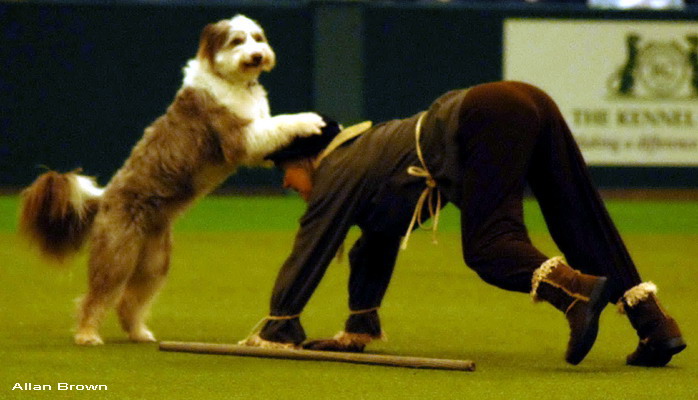 Kath Hardman & September Spice
Biscuit and I were placed 6 th .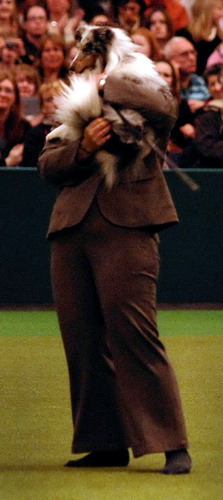 A big 'Thank you for doing your best hug' for Biscuit :-)
No Rest For The Wicked! We are back in Denmark and working hard to get a new routine ready. Wouldn't it be great if we could qualify to represent Denmark at Crufts again in 2009? I can promise you one thing - I will never leave my dog for a month prior to such an important event ever again!!!!
Congratulations to everybody who performed at Crufts. I enjoyed the competitions, all the demos and the atmosphere around the benches. I look forward to see you all again in March 2009.