Heelwork to Music in Denmark
Originally printed in the Midland BCC Newsletter 'Heartbeat' in 2007
By Emmy M. Simonsen
HTM was recognized as an official sport by the Danish Kennel Club in February 2006. Since then the sport has grown rapidly in popularity. We see new handlers at every show and those already competing show improvements with each performance.
As in many other dog sports, the Border Collie has dominated the HTM and Freestyle scene.
The top HTM dog in Denmark is Border Collie Bridacre Wisp "Whisper" (Whenway Decorated Hero x Bridacre Juliet) owned and handled by Emmy M. Simonsen. They have attended all Danish Competitions and have never been beaten.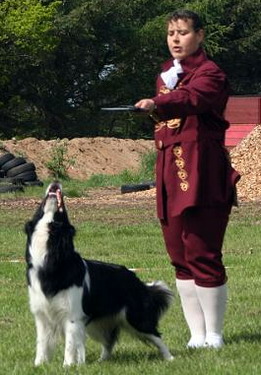 Emmy & Whisper performing 'Surrounded'
When the Danish KC approved the rules for HTM and Freestyle, they also approved 2 new Champion titles – Danish HTM Champion and Danish Freestyle Champion.
To gain them you need to win out of Class 1 and 2 and qualify for Class 3, which you have to win 3 times.
Whisper gained the HTM Champion title – as the first dog ever – on the 19th of May 2007. He achieved his title performing 2 different routines – in Class 1 and 2 he 'danced' to Bach's beautiful 'Ave Maria' and in Class 3 he performed a much more powerful routine to Queen's 'Killer Queen'.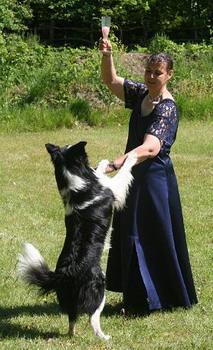 Whisper & Emmy 'Killer Queen'
Three other dogs have won their way into HTM Class 3 – two Border Collies and an Old English Sheepdog. The Border Collies are Stensedal's Twist'n'Shout "Spooky" (Whenway Smokey Joe x Stensedal's Crazy Daisy) owned by Johanna Allanach and Asasara Agent Thunderchief (Asphagens Don x Gawain's Miss Night Dancer) owned by Annette Dalgaard.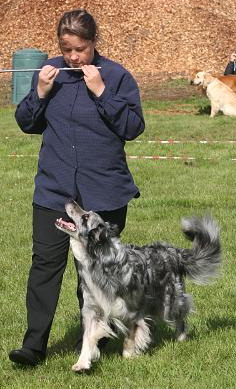 Johanna & Spooky 'Titanic'
Another Border Collie, which is doing very well at the moment is Whenway Decorated Hero "Robbie" (Whenway Royal Highlander x Cories Ashayer) owned by Emmy M. Simonsen. He has not been competing in HTM for long, but he is still unbeaten. He has won Class 1 twice and Class 2 once. He only needs to win Class 2 once more to qualify for Class 3.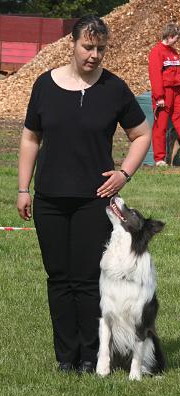 Emmy & Robbie 'Feet of Flames'
A new and very promising team had their debut on the 19th of May in Hjerl Hede. Sofie Berthelsen and Border Collie Solfari's Gardenia Gaia "Gaia" (Baffo x Solfari's Mycelis Mya) performed a nice and very exact routine to Sidsel Ben Semmane's 'Twist of Love'. It will be interesting to see what they can do in the future.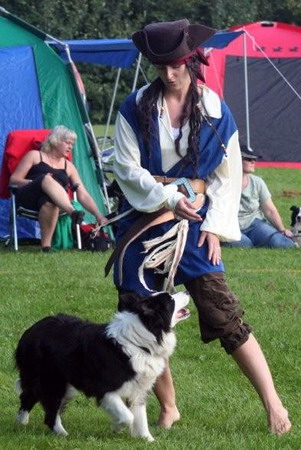 Sofie & Gaia
In Freestyle Emmy M. Simonsen has been hard to beat. Already at the first Kennel Club shows she took the lead by placing 1st, 2nd and 3rd in all competitions and today she is the only handler who has qualified dogs to compete in Class 3.
Her Border Collie, Whisper and her Sheltie, The Charmed Ones' Biscuit in Blue "Biscuit" have taken turns on winning, but in the spring 2007 Whisper performed his new routine 'Surrounded' from The Man with the Iron Mask for the first time and since then he has won every competition. He was the first dog to gain the Freestyle Champion Title (on the 26th of May 2007). Biscuit has one Freestyle CC and Emmy's third dancing dog Robbie (Whenway Decorated Hero) is breathing down both of their necks. It will be interesting to see who the next Freestyle Champion will be.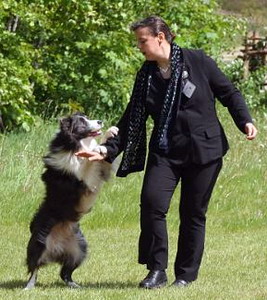 Emmy & Robbie 'Sparkling Diamonds'
Emmy took a head start in Freestyle and it has been hard for other handlers to catch up. 4 Dogs have qualified for Freestyle Class 2, but none of them have earned any Q-points to qualify for Class 3.
The 4 dogs in Class 2 are Sessa Gisselfelt with her Cao de Agua Portugues, Rikke Lund Adamsen with a nice black Labrador, Anja Christensen and her Sheltie and Christina Ingerslev with Border Collie Chillie (Zill x Jill).
In March 2007 Denmark was represented at Crufts for the first time. It was in the International Freestyle on the 10th. Emmy and Whisper beat off the other contenders to represent Denmark by winning the qualification Class at a Danish show in October 2006. Unfortunately Whisper later became injured and his place was taken by the Danish reserve 'Biscuit' Emmy M. Simonsen's Sheltie, who danced for Denmark and was placed fourth in the competition.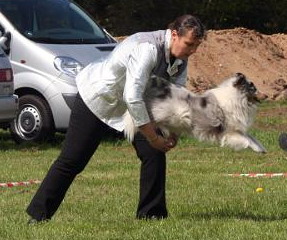 Emmy & Biscuit 'Sway'
Winners of the 2007 Competitions:
Asnæs, 25th of February
HTM Class 1: Johanna Allanach and Border Collie Spooky
HTM Class 2: Sessa Gisselfeldt and OES Dusty
HTM Class 3:Emmy M. Simonsen and Border Collie Whisper
Freestyle Class 1: Emmy M. Simonsen and Border Collie Robbie
Freestyle Class 2: Emmy M. Simonsen and Sheltie Biscuit
Freestyle Class 3: No teams qualified for Class 3 yet!
Hillerød, 29th of April
HTM Class 1: Annette Dalgaard and Sheltie Devin
HTM Class 2: Johanna Allanach and Border Collie Spooky
HTM Class 3: Emmy M. Simonsen and Border Collie Whisper
Freestyle Class 1: Annette Dalgaard and Border Collie Zico
Freestyle Class 2: Emmy M. Simonsen and Border Collie Robbie
Freestyle Class 3: Emmy M. Simonsen and Sheltie Biscuit
Hjerl Hede, 19th of May:
HTM Class 1: Emmy M. Simonsen and Border Collie Robbie
HTM Class 2: Johanna Allanach and Border Collie Spooky
HTM Class 3: Emmy M. Simonsen and Border Collie Whisper
Freestyle Class 1: Annette Dalgaard and Border Collie Zico
Freestyle Class 2: Emmy Simonsen and Border Collie Robbie
Freestyle Class 3: Emmy M. Simonsen and Border Collie Whisper
Hjerl Hede, 20th of May:
HTM Class 1: Sofie Berthelsen and Border Collie Gaia
HTM Class 2: Emmy M. Simonsen and Border Collie Robbie
HTM Class 3: Emmy M. Simonsen and Border Collie Whisper
Freestyle Class 1: Anja Maindal and Border Collie Taxi
Freestyle Class 2: Annette Dalgaard and Border Collie Zico
Freestyle Class 3: Emmy M. Simonsen and Border Collie Whisper
Hvalsø, 26th of May:
HTM Class 1: Rikke Lund Adamsen and Labrador Chili
HTM Class 2: No completed rounds
HTM Class 3: Emmy M. Simonsen and Border Collie Whisper
Freestyle Class 1: Christina Ingerslev and Border Collie Chillie
Freestyle Class 2: Sessa Gisselfeldt and Portuguese Waterdog Keean
Freestyle Class 3: Emmy M. Simonsen and Border Collie Whisper