FCI HTM & Freestyle
World Championships

Messecenter Herning, 25th - 27th June 2010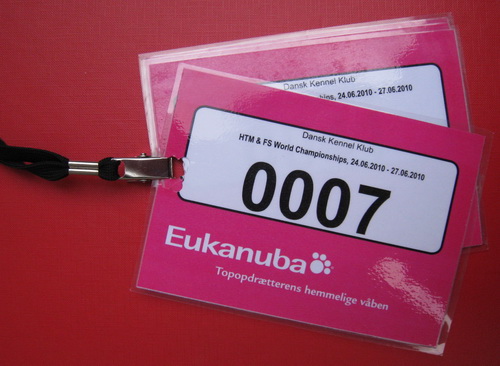 Tuesday, 22nd June
Tuesday was packing day. I had the day off from work and was busy sorting costumes, cleaning, last minute shopping and packing car. We also had our last training session before the 'big dance' in the ring and Biscuit's training was followed by a camera from 'TV 24 Sjællandske'. He did very well dancing with a camera in his face ;o)
Wednesday, 23rd June
Up early, off to walk the dogs and then sort the last packing. We were ready to take off at 9am.
It takes about 3 hours to drive to Herning from where I live, but the dogs and I took a break just before we arrived so it ended up being about 3½ - 4 hours travelling. I knew it would be a very long and busy day and once we had arrived, I would have very little time for the dogs, so I wanted to give them a good walk whilst I still had time.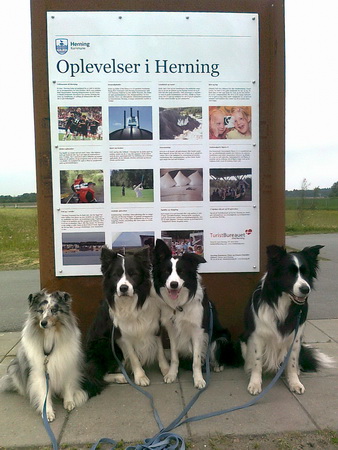 Biscuit, Robbie, Beat and Whisper
I was the frist of the Kennel Club HTM Committee members to arrive, but Show Manager Helle Ferrold was only a few minutes behind. Johanna came a couple of hours later. We arrived to an empty hall with red carpet on the floor. The rest of the ring was packed in Helle's car and it was our job to unpack and build it.

| | | |
| --- | --- | --- |
| | | |
| The empty hall on Wednesday at noon | Helle the Builder | Emmy the Builder :o) |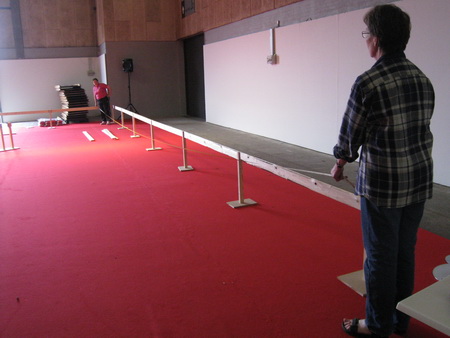 Johanna and Helle making sure the ring has the right size
| | | |
| --- | --- | --- |
| | | |
| Busy Helle | And Jette from the Danish Freestyle team came and offered to help. Thank you! | Staff from Messecenter Herning was busy painting the walls in hall F2 - the dogs' room |

Chairs for the spectators...
And finally late in the evening... a beautiful ring ready for the first HTM & Freestyle World Championships ever!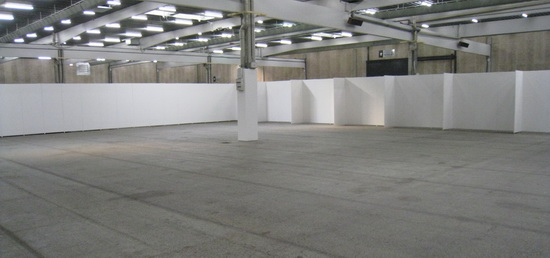 Hall F2 was ready too - this was where the dogs' crates would be placed in peace and quiet during the 4 busy days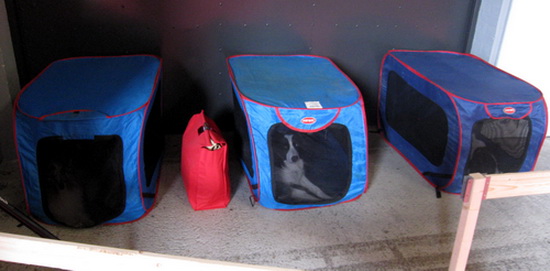 A long day for my dogs. I was glad I had taken time to walk them before we arrived as the rest of the afternoon was spent in crates...
Beat and I had an extra job on Wednesday evening. I had been asked to train one of my dogs to pull the skirt off Lise Lotte Christensen in the Main Arena on Sunday just before the breed show finals. My friend Helle had helped me train Beat for this 'happening', but of course we needed to practice with Lise Lotte too and Beat had to get used to the noises and business around the Arena. It all had to be kept as secret as possible, so Lise Lotte and I tried to meet in the Arena in the evenings and in mornings before the spectators arrived.
Or first training was on Wedneday evening.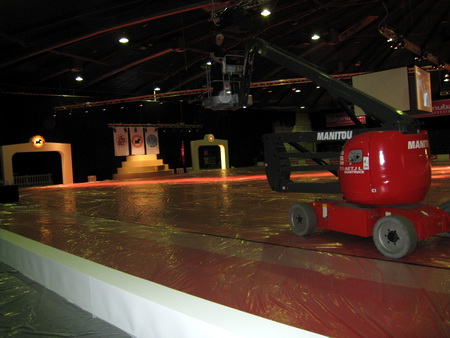 The floor in the ring was still covered in plastic to protect the carpet
We had a good first training... Beat seemed happy with the new skirt and he was fine working with Lise Lotte. He had to be confident enough to 'perform' in the Arena without my support and it looked promising! It was so hot in the Arena though and that made the training hard work.
It was late when we arrived to the hotel. Johanna, Helle and I met with Knud from the Kennel Club Obedience Committee and had tea in the hotel, then off to walk dogs before bedtime. It had been a long day for the dogs, but also a day filled with new experiences and they were exhausted. Beat was too tired to eat. He had a few mouthfulls and then fell asleep with his head in the bowle.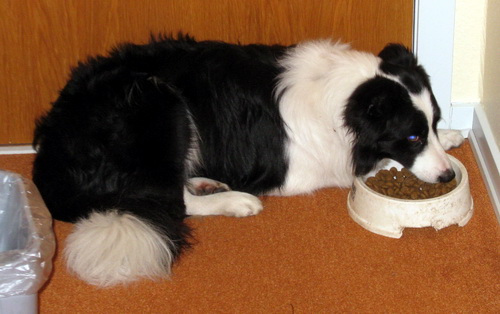 Thursday, 24th June
Up at 5, walked dogs, had breakfast and off to the hall - we had to be there at 7am.
Our first job was to make sure everything worked for the competition - internet access for the bloggers, CD player for the DJ and paper-work for the judges.
Beat and I also went to the Arena to practice with Lise Lotte and Whisper had a Main Arena HTM demonstration at 11am along with Jenny Deakin from Team GB and Agnes Mohlin from Sweden. You can see Whisper and Jenny/Tom's demonstrations here: http://www.tv2regionerne.dk/player.aspx?id=552398&r=6. It was on TV Midt-Vest on Thursday evening. I was also interviewed by Danish Radio P4.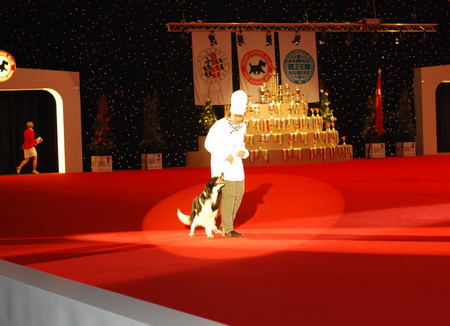 Whisper performing in the Main Arena
Each team had been allocated 15 minutes to practice in the ring and the training started at about 1pm. The Danish HTM team was practicing a little past 2 and the Freestyle team a little past 3. Then it was time for team photographs and the briefing started at 6. We also had music check-in. It doesn't sound too busy, but it was! I had hoped to be able to see some of the other teams' training, but I never got to that.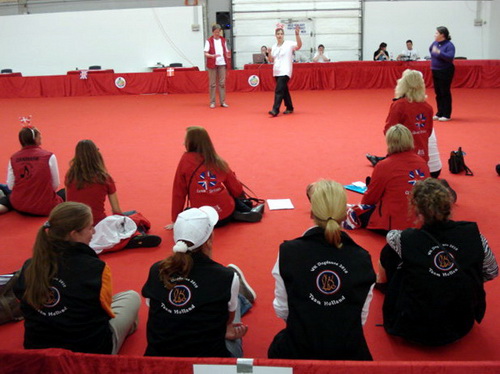 Team Briefing at 6pm - the competitors had the chance to ask the judges questions about the rules or their judging, information regarding the Opening Ceremony was given and the running order was drawn.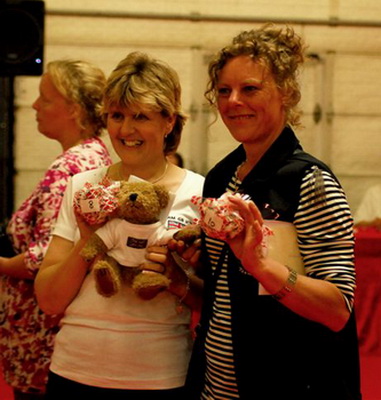 Gina Pink from Team GB and Grietje Wagenaar from Team Holland with their teams' running orders - 8 and 10!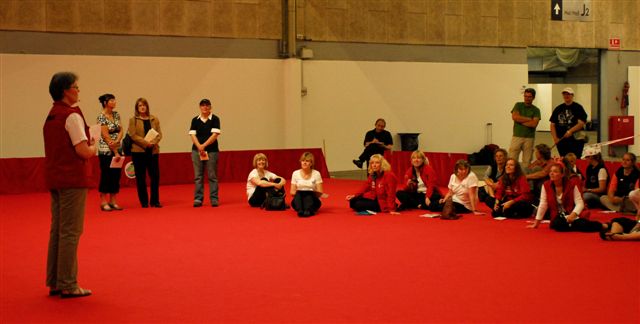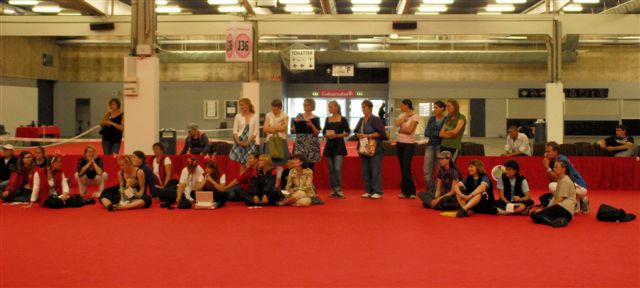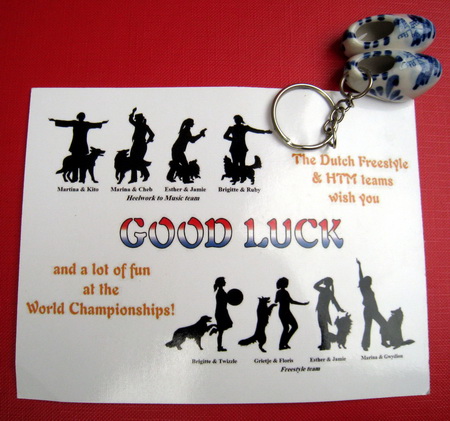 The briefing was also an opportunity to hand out Good Luck cards to the other participants - here is a nice card from the Dutch team.
| | | |
| --- | --- | --- |
| | | |
| A beautiful present from my friend Helle | And a good luck card from Helle | From Jette and Addi |
Cards from Team GB members
Lovely cards from Johanna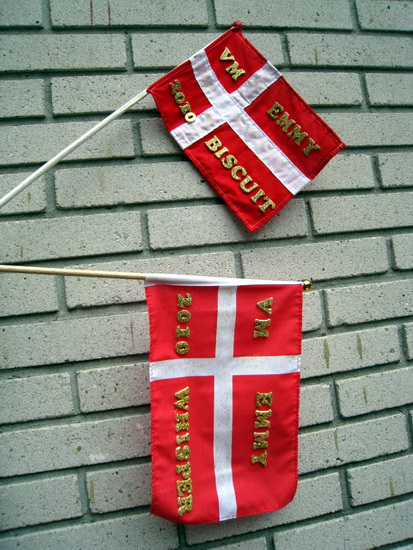 And Anja made flags for everyone
Team Holland's area in Hall F2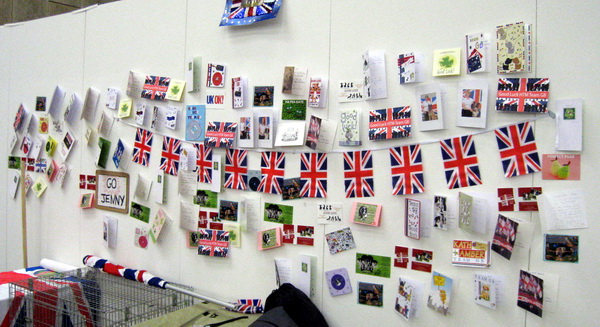 Team GB
Austria and Belgium were represented by just one dog and handler each, but they were both super talented handlers with well trained dogs and they performed so well for their countries.
Official World Championship Dinner at 7pm. The halls were locked for the night, so we had to make special arrangements to be able to leave our dogs in hall F2 whilst we were eating. It was too hot for them in the cars.
We had made an agreement with the night watchman, but it still turned out to be a challenge to get back to our dogs at 9pm - and having a tired, excited and slightly silly Team GB with us did not help!!!!! (Sorry Team GB - you were great fun, but not very helpful). And once we did get our dogs out, it proved to be an even greater challenge to get our cars out from the officials' parking area! Sigh!
Back in the hotel my friend Helle and I met in Helle's room to sort running orders and upload them to the blog. Another late night...
Friday, 25th June
Once again up at 5, off to walk dogs and meeting Helle Ferrold and Johanna in the hotel restaurant for breakfast. I was not really able to eat much breakfast though... Friday... Competition day!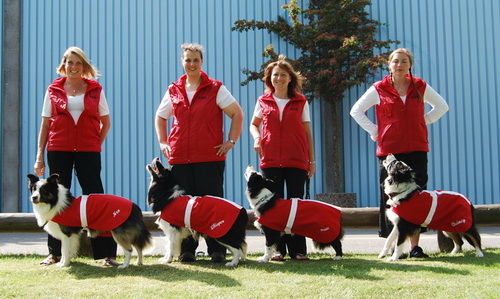 HTM Team Denmark
Reserve Annette with Neo (not competing), Emmy with Whisper, Helle with Doggie and Anja with Queeny
We arrived to the hall at 7am. Lots of work before we were ready for the Opening Ceremony and Beat and I also met Lise Lotte to practice in the Arena. Beat's training was going really well and I was confident that he would perform well on Sunday afternoon. We trained with music and light in the Arena and Lise Lotte was talking in the mike whilst Beat ran towards her. It was looking really good and Beat enjoyed his morning training sessions.
Back to the hall for briefing with the judges at 9am and with the helpers at 10am.
The Opening Ceremony was at 1pm and the specators started to fill the hall already an hour prior to that. A nice surprise was the 2 of the residents and 2 of my colleagues from work had travelled all the way to Herning to support me. It was wonderful to see them.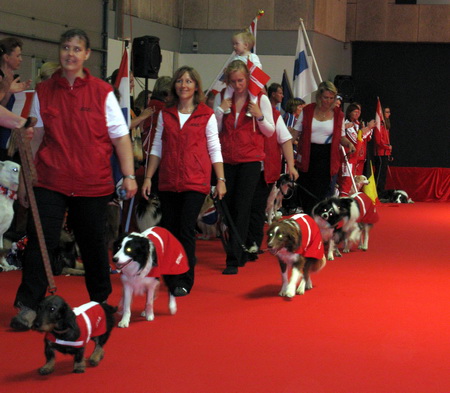 The Danish Team entering the ring to the sound of the Danish National Anthem
The Opening was fantastic - emotionel and joyful - a great way to celebrate our dogs, our sport and the first FCI HTM & Freestyle World Championships.
All the teams and the judges were introduced. Head Judge Karen Sykes wished all the competitors the best of luck and then Chairman of the FCI Obedience Commission Mr Johann Kurzbauer held his opening speech. Mr Kurzbauer was very pleased that we do now have official FCI HTM and Freestyle rules and encouraged France to take the challenge and host a World Championship in Paris in 2011. He praised the HTM handlers for the wonderful relationship they have with their dogs and was sorry that the World Championships came 30 years too late for him to participate. He then declared the World Championship for open - the dancing could begin!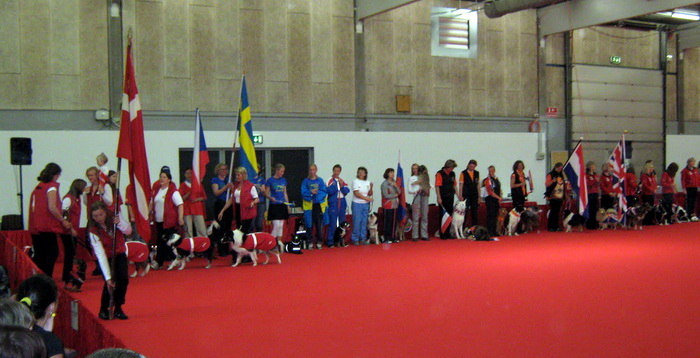 All the teams in the ring for the Opening Ceremony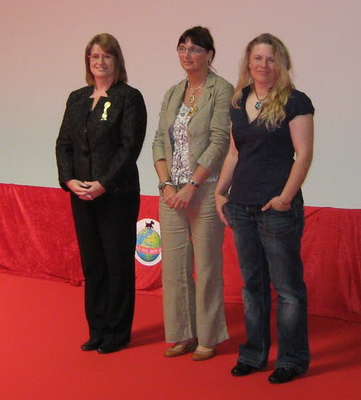 Judges Karen Sykes (Head Judge) - UK, Marleen van Hees - B and Carina Enevoldsen - DK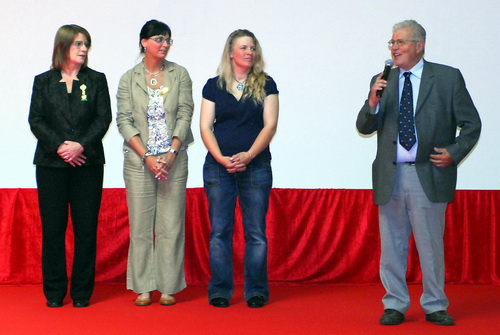 The judges and Chairman of the FCI Obedience Commission Mr Johann Kurzbauer
I watched a few of the HTM routines, but couldn't really concentrate. All the other participants looked fantastic in the ring and it made me nervous, so I went into Hall F2 with the dogs and listened to some nice calming music until it was time for me to get ready to perform. I did hear that both Helle and Anja had done really well. It was good news, but it also put pressure on Whisper and I. It all depended on us now.
Time flew and I soon needed to get Whisper out for a wee, change into costume and get to the warm up area. Working Whisper calmed me. He seemed happy and ready. He is an old man and I was worried that he would be tired after 3 days away from home, so I played lots to get him excited and up for it.
'Emmy - the ring is yours!' was what the ring steward said... Ok, here goes...
It went so well. Whisper did brilliantly and I am so pleased with him. Preparing for this World Championship has been hard. Whisper was very ill a few years ago and it seems that he has been ageing faster after that. To get him in shape for a 5 days long competition has taken a lot of careful preparations. It was fantastic to be in the ring with him and feel it all come together at exactly the right time.
It was an excited HTM Team Denmark that waited for us when we left the ring - 3 good performances... Nothing more we could do, except keep our fingers crossed!
We were also met by a journalist from Herning Folkeblad, who wanted an interview - but of course they had to wait until Whisper had been rewarded for a job well done. See the article from Herning Folkeblad - click here!
Time for prize-giving in the ring... I still find it hard to believe... Anja, Helle and I won the HTM Team World Championship. What an amazing experience! Thank you Helle, Doggie, Anja, Queeny and Whisper for making this possible. I am so proud of us all!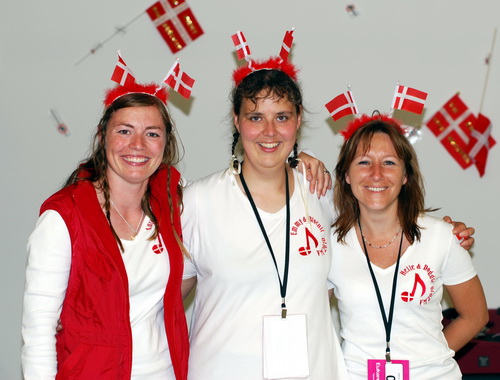 Anja, myself and Helle
We also all made it to the Individual final - Anja with a 2nd, Whisper with a 3rd and Helle with a 9th place. What a day for the Danish Team.
A beautiful card we received after the competition
For me it was an emotional day - not just because we did really well with the team, but also because I had decided that this World Championship should be the last time Whisper was representing Denmark on the national team at a big international competition. He will still be competing, but it is special to dance for Denmark and it is sad to know that we will not be doing that anymore. I do consider if we should still try out for the Danish Team for the Nordic Championship in Finland in December though. We do have a Nordic Champion title to defend, but I am not making that decision now. Lots can happen during the next 6 mth...
After tidying up in the hall and perparing for the next days competition, we went back to the hotel. We met with some of the helpers in the restaurant for tea and after that my friend Helle and I took the dogs for a nice walk. Helle and I normally talk every day, but we had been so busy in Herning, that we had hardly found time for even a quick 'Hallo'. It was so good to catch up and relaxe a bit.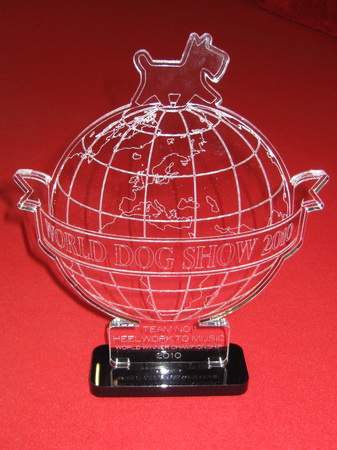 Saturday, 26th June
Another early morning with no appetite for breakfast! Freestyle day! Biscuit day! I am so pleased that both of my boys were chosen to represent Denmark at this first World Championship, but on Saturday morning I did feel a little bit jealous of the rest of the HTM team... Anja and Helle were looking forward to a relaxing day cheering for the Freestyle team - no pressure... No pressure sounded good!
That feeling soon passed though and I was looking forward to get into the ring and show my little sheltie off. Biscuit had done so well in training and demos up to this competition and I felt confident that he would perform well.
Biscuit is very different from the Border Collies. He can be a star and dance his heart out for me or he can decide that he will rather just sit in the corner of the ring and cheer for me whilst I dance... I never know what I will get until I am in the ring with him, so being this confident was a new and very nice feeling. I wonder if Biscuit is growing up and has become more reliable or if it has just taken me 5 years to learn to train a sheltie? Or maybe we are just in a good period of our relationship right now? What ever it is, I do enjoy it!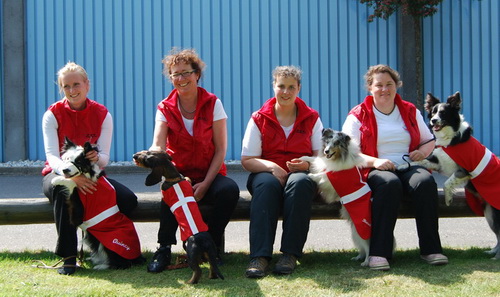 Freestyle Team Denmark
Sofie with Quincy (reserve - not competing), Jette with Addi, Emmy with Biscuit and Johanna with Soda
Once again my morning started with Beat training in the Arena. Beat was still doing great - super!
I felt much better waiting to perform with Biscuit than I did on the Friday waiting to go in the ring with Whisper. I was fine watching the other participants and I had fun with the Danish supporters. Once again there was a huge audience.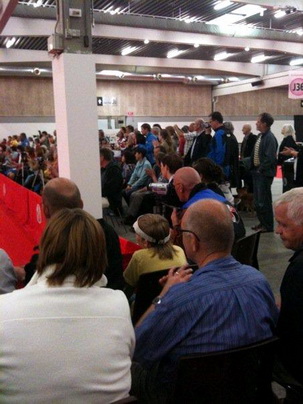 Spectators
Johanna and Soda were first Danish dog/handler team in the ring. I didn't see them perform, but Johanna was very pleased with herself and Soda - phew! A good start for Team Denmark! Then Jette and Addi - I did see them and they were great. Addi took a bit of time to get started, but after a slow beginning, they were fantastic and performed so well.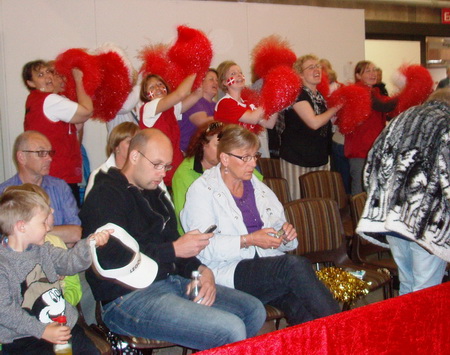 Cheering for Jette and Addi
Time to prepare for Biscuit's performance...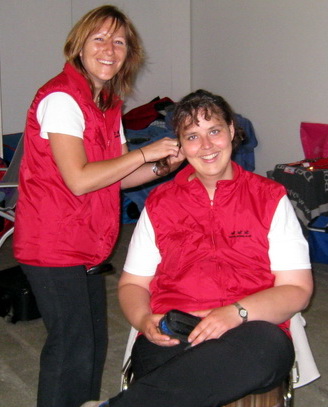 Helle doing my hair...
Biscuit performed so well - the best 'Its a Hard Knock Life/Tomorrow' he has performed and probably one of his best performances ever - I am so proud of him!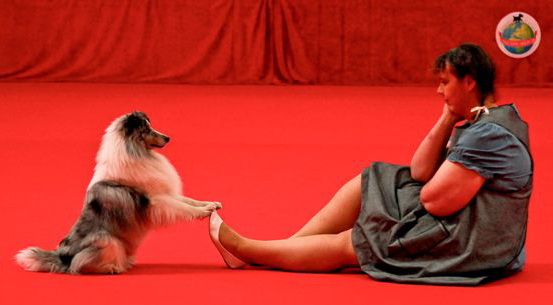 Once again it was nerve wracking to wait for the results - one thing is to feel that things went really well... You just don't know if the judges liked your routine or if it looked as good as it felt...
Team Denmark won Silver after the Czech Republic! WOW! Team Gold one day and Team Silver the next - what a World Championship for Denmark! Biscuit and Soda also qualified for the Individual Final - Biscuit on a 4th place and Soda on an 8th.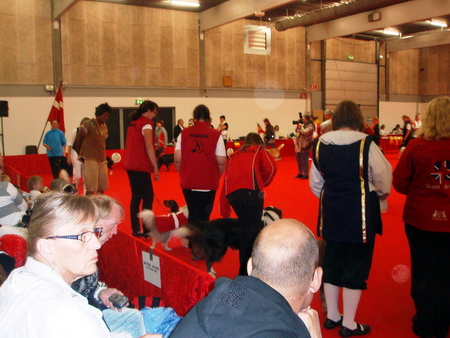 In the ring waiting for prize-giving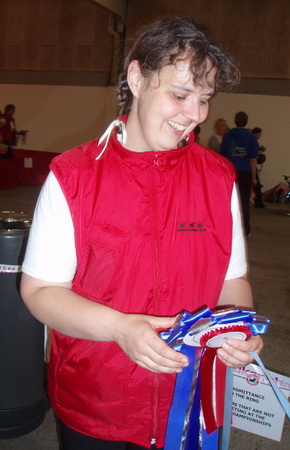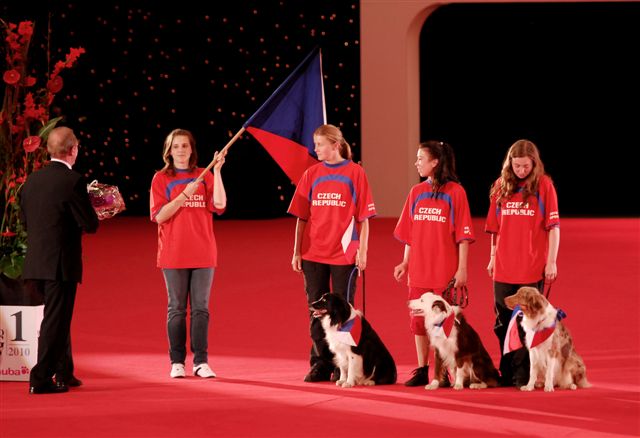 The Czech team that won the Freestyle World Championship team title

Saturday evening was the official Kennel Club World Dog Show Dinner and the HTM Committee was invited, so Johanna and I hurried back to the hotel for a quick shower. The dogs got a short walk and then off to a very posh dinner in Herning Kongresccenter. It was good, but I was so tired. I had hardly slept since I arrived to Herning and we had an early start and an important competition the next morning. Johanna and I went back to the hotel at 11pm and let the judges, officials and committee members that were not competing the next day do the rest of the partying!
Sunday, 27th June
Up at 5 - still not feeling like having breakfast, but walked dogs and arrived in the hall in time at 7am. We prepared everything for the competition and then met Lise Lotte in the Arena for the last Beat training... so we thought! But the Arena was more busy this morning and it distracted Beat. He was confident, but not focused enough and he stopped half way through the ring and considered whether he should return to me or go to Lise Lotte and pull her skirt off. He did choose Lise Lotte, but we were still a bit worried and decided to try to find time to meet for a last practice some time during the day.
Back to hall J3 and the HTM finals. I was nervous and tired and Whisper was tired too. Luckily he is an experienced boy and seems to know when to give the last bit... He performed well and I was so pleased with him. My fantastic boy placed 4th in the final.
Anja from Team Denmark placed 2nd - well done and congratulations. Helle placed 9th in the Final (well done Helle and Doggie!) and my friend Kath won the Individual World Championship. I am so excited and happy for her. Huge congratulations! Very well deserved! Hey - I always told you Amber is fantastic - wonder if you believe me now? ;o)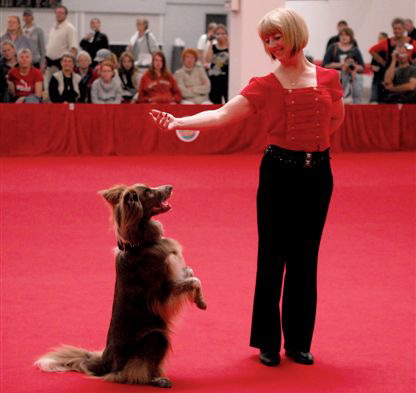 Kath Hardman and Amber - HTM World Champions

It was hard to put the HTM behind me and get in the mood to perform again. It would be very unfair to Biscuit not to give my best when dancing with him, but I was tired and struggled to find the motivation. It did help to get the costume on though and when Biscuit came out of this crate happily barking, I started to feel better and more ready.
Biscuit was good - again. Our music started before we were ready, but I got the DJ to stop it and start over on my signal, so it was not a problem. We missed a move in the beginning of the routine and another move in the middle, but besides from that everything went very well, Biscuit was keen and happy and I was pleased with our performance. We placed 4th in the individual championship.
Johanna and Soda placed 8th in the final and the winner was Thierry Thomas from France, who performed a fast pace routine with lots of content!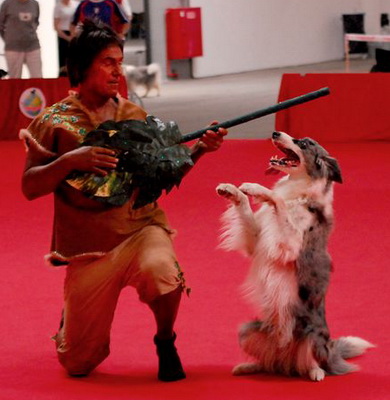 Thierry Thomas and Ubac - Freestyle World Champions
Time for the prize-giving and lots of goodbyes. The first HTM & Freestyle Championship had been a great success. We celebrated the winners and wished France the best of luck with World Dog Show 2011.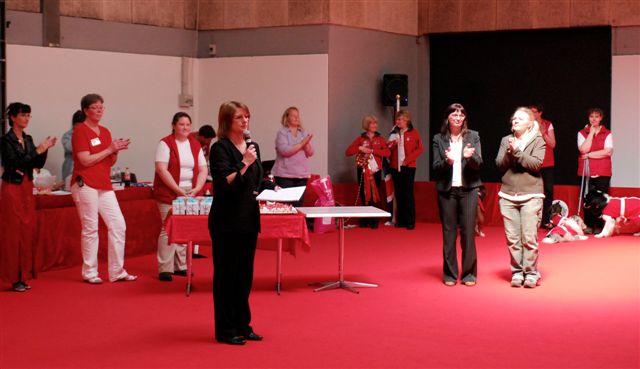 The goodbye/closing ceremony
And then it was time for Beat and I to go to the Arena for Beat's 10 seconds of Fame. 6 weeks of training - fingers crossed that he would be confident and perform when it counted!
Lise Lotte and I met back stage and practiced one last time. Beat was so ready! He would not even say hallo to Lise Lotte - he only had eyes for her skirt and he wanted to pull it off!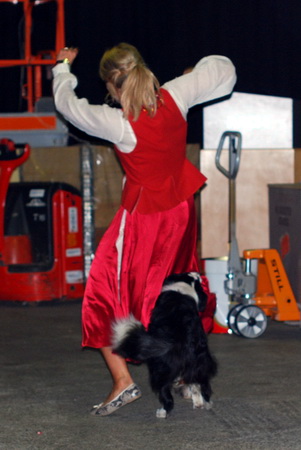 Beat rested a bit in his crate and I had lunch - then it was time. I must admit that I had butterflies in my stomach! How embarrassing if my dog ran into the ring, but did not pull the skirt off and I would have to go out there in front of a huge audience in the middle of the breed finals and collect him. No one would ever know that he was meant to come - they would just think he was out of control :o(
But Beat did not let me down. He performed like a star! He did not hesitate for a second! He ran directly towards Lise Lotte, who was introducing the first group coming into the ring for the group finals, jumped up behind her and pulled her skirt off - then let her chase him around the ring before he followed her out, where I was waiting for him. Of course I only saw what I could see through the curtain... But I saw enough to be really proud of him :o).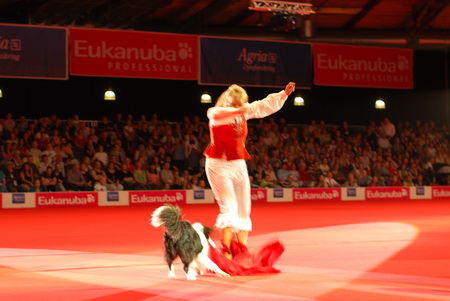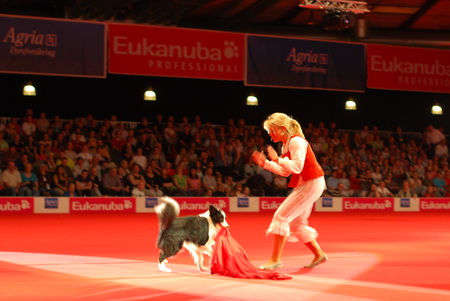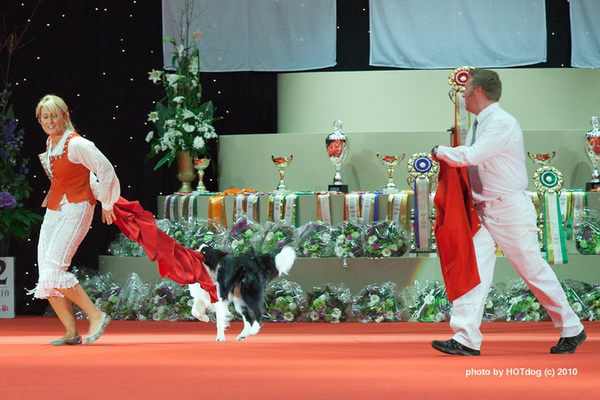 We went back to hall J3 and helped with the rest of the tidying up before the long waiting time started... All the winning teams had to be in the Arena at 4.30pm for presentation, but we didn't get in until about 6pm. It was so hot back stage, but we tried to 'kill time' by chatting and relaxing. It was ok and worth waiting for...
Standing in the Arena listening to our National Anthem was BIG! We actually won a World Championship! I cannot describe how it felt. A mix of emotions being so tired, so relieved and so proud of my boys at the same time.
Thank you so much Team Denmark for an amazing experience. I am very proud of both the HTM and the Freestyle team. We exceeded our expectations by far! And of course I am thrilled with my 2 boys - 2 dogs qualified for the Danish team, 2 Team placings (one being a World Championship title) and 2 individual top placings. WOW!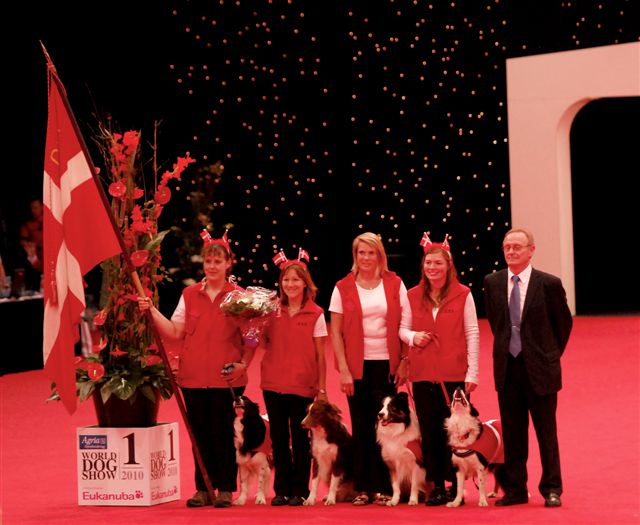 The Danish HTM Team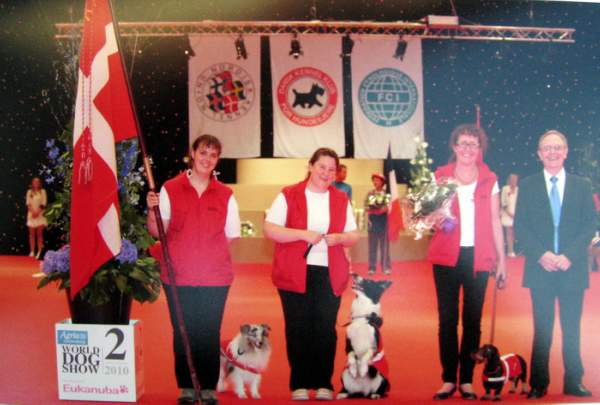 The Danish Freestyle Team
The rest of the evening was more relaxed. I left some very tired dogs in the hotel. They had all had a busy day - Whisper and Biscuit dancing, Beat doing his skirt-thing and Robbie had been out with his granddaughter Joythi and her owners - and they were happy to have a quiet evening sleeping. I went out for dinner with some good friends and could finally relaxe. Competing at and organizing a big event like a World Championship is hard work!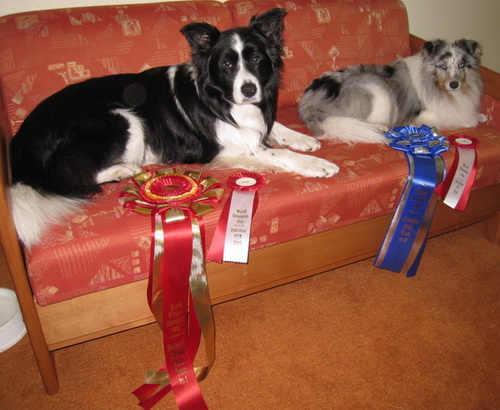 Whisper and Biscuit
Monday, 29th June
I had hoped to be able to catch up with some sleep, but I woke early. I walked the dogs, had breakfast and then packed car and set off. Time to go home. Once again we made a halt on the way. It is tradition that my dogs get a Happy Meal from McDonalds when they have done something extraordinary and a World Championship win definitely counts as extraordinary!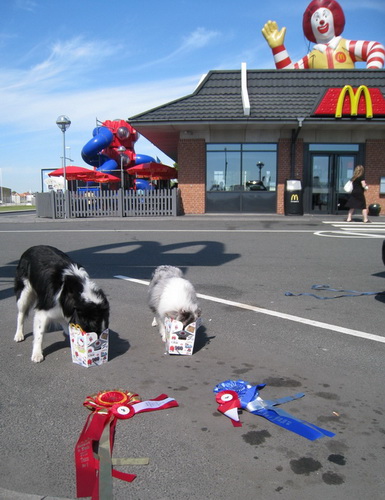 Whisper and Biscuit enjoying their Happy Meals

Biscuit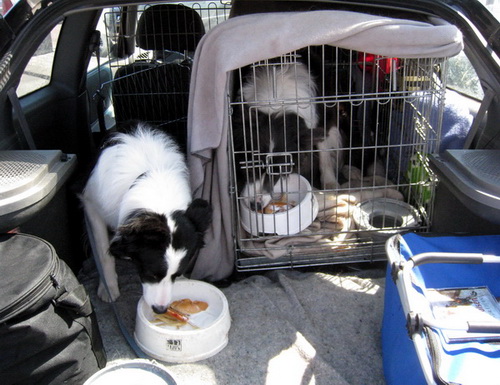 Beat and Robbie got some too :o)
Home safely a little past noon - after an amazing week in Herning :o)
A huge thank you to all the handlers and dogs that travelled to Denmark and made this first World Championship special. Also a huge thank you to the judges - you did a fantastic job! And a thank you to the FCI and the Danish Kennel Club for supporting this event and to Team Denmark for a great time. Most of all thank you to Whisper and Biscuit - I love you both so much!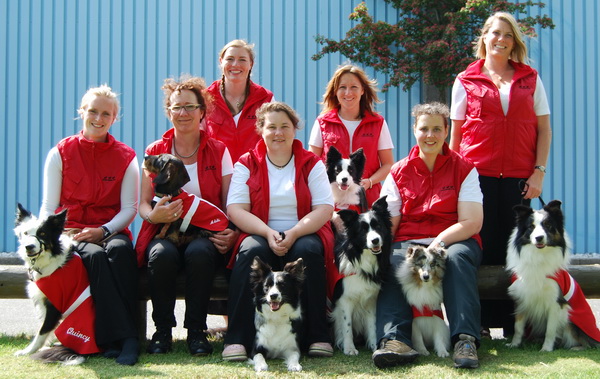 From left: Sofie/Quincy (FS reserves), Jette/Addi, Anja, Johanna/Soda, Helle/Doggie, Emmy/Whisper & Biscuit and Annette/Neo (HTM reserves).


Photos: Helle Larssen, Allan Brown, Preben Simonsen, Emmy Simonsen and others...