World Championship Shelties
2010
All photos by Allan Brown

Esther Niemeijer with Jamie
The Danish Kennel Club was the host of the HTM & Freestyle World Championships 2010, which were held in conjunction with the World Dog Show in Herning from the 24th – 27th July. 12 countries were represented at the Championships – 3 countries chose to put a sheltie on their team.
The World Championships were held over 3 days – day one was the HTM Team competition, day 2 was the Freestyle Team competition and the top 10 dog and handler teams from the first 2 days would be competing for the individual World Champion Titles in the finals for HTM and Freestyle on the Sunday.
Emmy Marie Simonsen and her blue merle Sheltie The Charmed Ones' Biscuit in Blue (Biscuit) were representing Denmark in their Freestyle Team. He performed well and with an individual 4th and Team Silver, he was this World Championship's most successful sheltie and the only sheltie, who actually qualified for the individual final.

Emmy M. Simonsen with Biscuit
Emmy and Biscuit performed to a mix of "It's a Hard Knock Life" and "Tomorrow", both from Charles Strouse's moving musical 'Annie'.  Biscuit was keen and motivated and did not make any obvious mistakes as he danced his way through the routine. The show reporters said about Emmy and Biscuit's performance:  "The story of Annie always brings tears in my eyes - and so did this performance! The handler and dog gave an interpretation so close to the plot in the movie - as well at the foster home when Annie dreams of a better future. There were so many different moves and turns - and all close to the rhythm and changes in the music."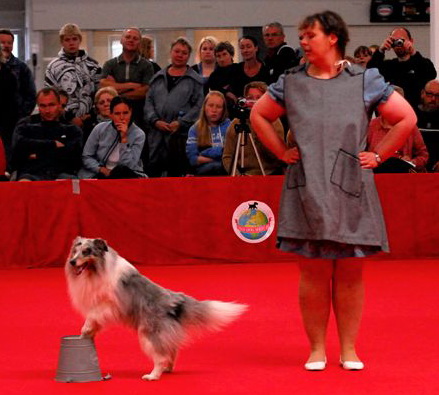 Points in the first round: 27,47 (out of 30). Points in the individual final: 27,80. Total score: 55,27.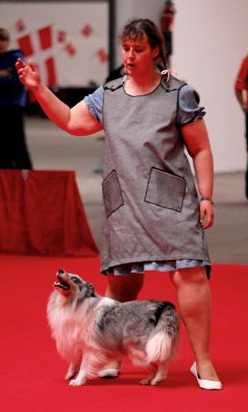 No big international championship is held without Sini Eriksson and her beautiful blue merle sheltie boy Mutkis Onnensoturi (Sonic)! Once again they were representing Finland in Freestyle and as always it was fantastic to see them work. Sonic is a very talented freestyle dog, who has many wins both nationally and internationally on his CV.

Sini Eriksson with Sonic
The team performed to 'Final Fantasy' -  the  same routine as they won the Nordic Championship with in 2009, but the judges didn't score it high enough to do well this time.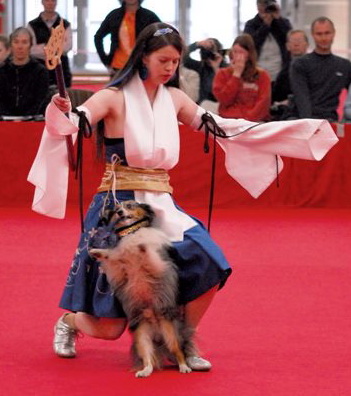 The audience enjoyed their well choreographed routine, which had lots of content and variation, but it did not bring them to the final. The Show reporters wrote: "Sini and Sonic performed a wonderful routine to a mood setting piece of classical music. They make everything look so easy even though you know the moves are difficult! The handler and the dog have a great relationship. They do a lot of distance work in different directions. It is hard to choose, but I think the cutest trick was when Sonic walked on top of Sini's feet. Go Finland!"
Points: 25,33 and a 12th place.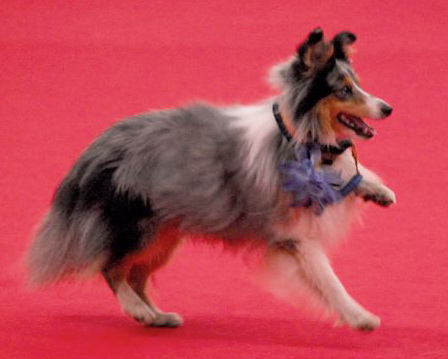 Sini and Sonic had a great weekend in the agility rings too and won one class after the other!
Last sheltie to perform in the World Championship ring was Esther Niemeijer's Exquizt Mr James From a Beloved Home (Jamie). He was representing Holland in both HTM and Freestyle and he performed both his routines with enthusiasm. He was super motivated and performed 2 routines with a high degree of difficulty, but unfortunately he was keen to make the spectators and judges aware of how much en enjoyed dancing at this championship and he did so in a rather noisy way.

Esther with Jamie - HTM
In HTM Jamie performed to the theme from 'Mission Impossible'. The Dutch performers had more Freestyle in their HTM routines than we are used to in Denmark and that counted for Esther and Jamie too. They showed a high pace, action-packed  routine and the show reporters said: "The last competitor for today was Esther and her Shetland Sheepdog. They performed a fast pace routine to the music from Mission Impossible. They had many great positions and tempo changes as well as some inventive moves such as the handler running round the ring and the dog following her, but moving backward and some of the way even on hind legs! They had some very fast sideways movements with the dog in position between the handler's legs (also moving sideways). Great finish to a great HTM day!"
Points: 23,50 and an 11th place.

HTM
In Freestyle they danced to "La Dance Macabre". Once again they had great show quality and entertained both the audience and the show reporters: "Oh - a scary title – and in the ring a tombstone and a handler with a very pale face and very black eyes (makeup). It was a nice performance - precise moves and tricks and all in good accordance with the music. I liked when the dog ran backwards both on all 4 and on its hind legs. All in one it was a scary performance – meant in the most positive way and true to the theme of the music."
Points: 21,93 and an 18th place.

Freestyle
World Champions 2010 were:
HTM Team: DENMARK (Helle Larssen & Littlethorn Avensis, Anja Christiansen & Færhunden's Queeny Las and Emmy Simonsen & Bridacre Wisp).
HTM Individual: Kath Hardman & Stillmoor Lady in Red, GB.
Freestyle Team: THE CZECH REPUBLIC (Vanda Gregorova & All That Brandy Gentle Mate, Alena Smolikova & Dapper Dame Black Chevers and Lucie Smolikova & A White Head Tender Flash).
Freestyle Individual: Thierry Thomas & Ubac, France.
Judges at this World Championship were Carina Enevoldsen from Denmark, Marleen van Hees from Belgium and Karen Sykes from England. They were professional and fair and I think all competitors had great respect for their decisions and judging. Head judge Karen Sykes said after the show: "Thank you to the Danish Kennel Club for inviting me. Not only was it an honour but a pleasure too! The standard at the World Championships was stunning & I had the best seat in the house to savour every moment. The standard of the competition was matched by the hospitality of the Danes. THANK YOU!!!"